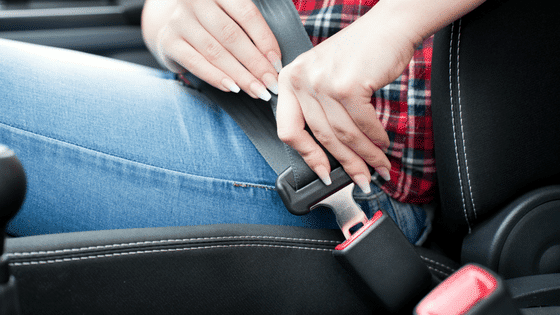 No doubt you've heard of the "Click It or Ticket" campaign, aimed to get drivers to buckle up before hitting the road. The reminders, advertisements, and signs have been successful in promoting the use of seat-belt use. Despite being so successful, the truth is that campaigns like these haven't always been around. It may get drivers thinking, where did seat belts and the laws surrounding them come from? Here is a history of seat belt laws.
You've probably heard stories from family members about children climbing into the back of a station wagon with games and pillows to head out on a road trip, with no second thought to buckle up. These stories aren't as far back in time as you may think. According to the CDC, only about 10 percent of automobile occupants wore a seat belt before the 1980's.
Initially cars didn't even have seat belts to wear. But over time, they were integrated until by 1964 all cars had some sort of seat belt. Shoulder belts were introduced in 1968, and lap and shoulder belts in 1974.
The first state to put a law into place to for the use of seat belts was New York in 1984. Many other states followed suit until by 1996 and all states but New Hampshire had some sort of seat belt law. These laws saw an increase of seat belt use from the mere 10 percent to about 50 percent. However, most of these laws only protected the driver and those riding in the front seat. Other passengers in the car were not required to wear a seat belt.
By 2010, 31 states and the District of Columbia had primary belt use laws (where drives can be pulled over simply for the fact that they're not buckled up.) Eighteen states had secondary enforcement laws (where drivers can be pulled over for other reasons, but cited for not wearing a seat belt). New Hampshire still did not have any seat belt law enforcing adults to buckle up.
If you've ever been in a crash, you know that even a minor car accident can leave those involved in pain. If you YouTube "car crash" or watch videos of car accidents you can clearly see the benefits of buckling up. According to the CDC, studies have been done on the effectiveness of seat belt use, and the findings are clear — when you wear a seat belt the injury rate decreases. While seat belts can make a dramatic change in the outcome of an auto accident, it doesn't make you invincible to injury.
If you've been injured in an auto accident you may be liable to pain suffering compensation. If you think you qualify, you'll want to find a personal injury lawyer.
Your personal injury lawyer will help you know how to proceed following an accident. If you're looking for the best in a car accident law firm, look no further than Cockayne Law. The attorneys there will fight for you and your personal injury claim.
Find the best personal injury lawyer for you at Cockayne Law.
https://cockaynelaw.com/wp-content/uploads/2020/04/History-of-Seatbelt-Laws.png
315
560
Chris Cockayne
https://cockaynelaw.com/wp-content/uploads/2022/11/cockayne-law-firm-logo-300x118.png
Chris Cockayne
2018-02-04 06:32:57
2022-12-22 10:55:57
History of Seatbelt Laws